Yesterday, I had a completely different experience,  thanks to the whole team of Sourcing Adda. I had the privilege of attending The Talent Acquisition & Sourcing Conclave (Tascon'16) organized by Sourcing Adda. It was a fantastic event.
The recruitment market is booming and lots of new experiments, strategies, practices are taking recruitment industry to some other level. Tascon'16 was all about the innovative ways of recruiting & attracting talents. We discussed the role of technology & social media channels in giving a whole new face to the recruitment industry. You need to know how to break the traditional channels and upgrade yourself with the latest recruitment practices.
Today I'm sharing a few take away from the event. It is definitely going to help the recruiters across the globe.
Aadil Bandukwala on Talent Analytics – Big Data & Social
The event kick-started with the keynote by Aadil Bandukwala. He talked about Talent Analytic using Big Data & Social. He explained how Big data, Social networking, Digitalization have changed the Recruitment Industry.
Few interesting points from his address are:
Talents can be approached by innovative ways like video job-description
Twitter analysis can give you an idea about candidate's personality
Predictive Analytics, artificial intelligence and candidate engagement are going to rule the future of recruitment industry.
Powerful Tips For next generation of sourcing by Samirul Mallick
Samirul shared the latest methods of doing a google search using image processing that can help you acquire the right talent. He suggested using many non-traditional channels to source talent instead of sticking to the traditional channels.
Some of the non-traditional ways are through techgig, hackerearth.com, Behance for sourcing UI/UX candidates.We can also analyse our job description with the help of Textio and Wordle
LinkedIn Hacks by Mukta Patil
Nowadays LinkedIn is the best place to approach the passive candidates. Mukta shared some extremely useful LinkedIn hacks to get the most relevant profiles even if you don't have the premium LinkedIn account. You can also search candidates that are alumni of a particular school or college without efforts.
For getting candidates contact details, you can use the Prophet Extension.
Digital Marketing Hacks for Recruitment Ashwani Paswan
Ashwani expressed an amazing idea of merging digital marketing with recruitment. He explained how to choose words for the job description that will help you improve the ranking on google search engine because now a day's google is the top most searching engine for a job hunt. He also explained about the keyword planner tool ( http://keywordtool.io/).
You can use Twitter cards for proper job posting on twitter. You can also use Careers tab on Facebook to attract the passive candidates.
Facebook Graph search by Shoheb Shaikh
Facebook is the information hub. So Shoheb Shaikh talked about leveraging facebook for talent acquisition.
He explained about Intel Techniques search tool that can be used to get facebook information about candidates. You can also compare two candidates on same parameters.
 Powerful Recruitment tools? By Amit Patel
Being a recruiter, many times I have faced an issue of exhausting candidate database. Amit Patel presented many other tools by which we can easily get candidates that are there in the market. The best way to approach passive candidates is by using tools like search-im, Sourcing labs for social x-ray search. You can create your ID, do your search and fetch the list of a whole new bunch of candidates from different social networks.
Twitter Tools for Recruitment by Sathish Ganesh
Twitter is becoming the best platform for a recruiter to source and attracts talents. Sathish shared some tools that can help you in extracting the candidate data from Twitter. The tool  Twiangulate helps you get in touch with candidates on Twitter and the tool Followerwonk provides you the twitter analytics.
Finding The Purple Squirrel – Stack Overflow by Ritesh Madraswala
Ritesh Madraswala explained how to get a profile from Stack overflow Careers , and how to approach the candidates based on that information. He also shared one useful BOOL extension that can help you to create  Boolean search strings for any platform.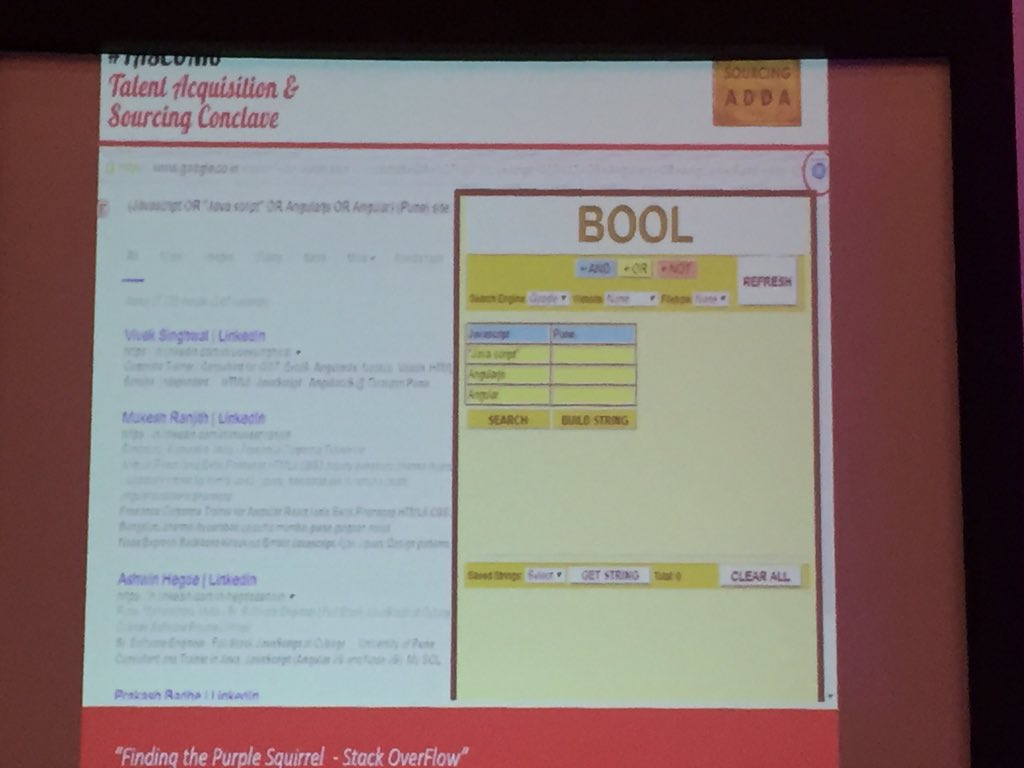 Art of sending mass emails by Ashish Peshave
Ashish explained about approaching active and passive candidates differently. Mostly the candidates searched from job portals are active candidates. Those present on LinkedIn can be active or passive candidates.
For approaching active candidates, he gave a concept named SELO i.e. Skill, Experience, Location and Organisation. In brief,  your subject line of the email to active candidates should include all these elements.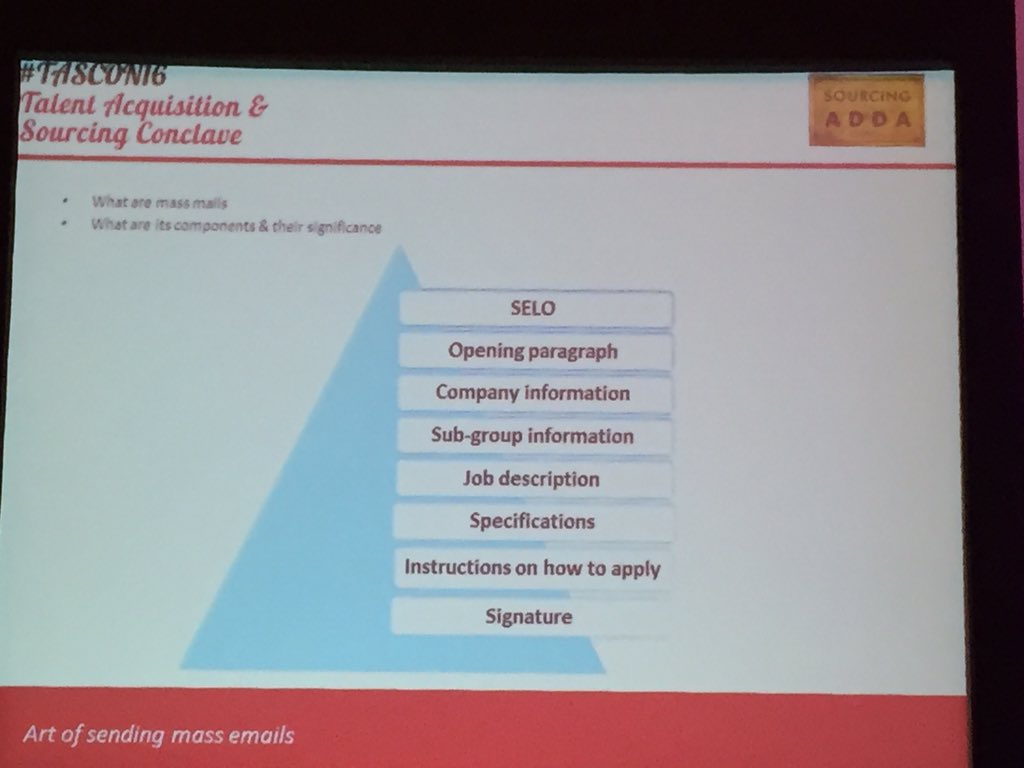 For passive candidates, use personalised approach and do the proper study about them. Use some catchy subject lines so that the candidate relates to it and feels attracted to open your email. He also emphasised on using different expressions in e-mails for active candidates and passive candidates.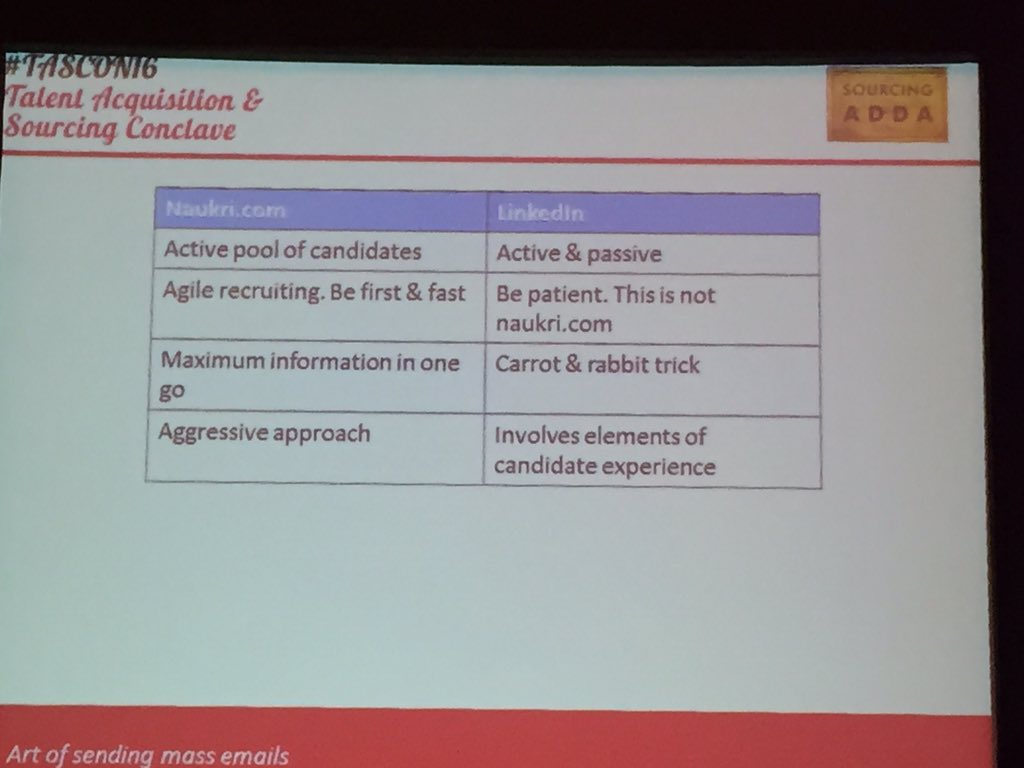 I have started using these new age recruitment methods and hope you too would soon. I can't wait to attend Tascon'17. See you there!